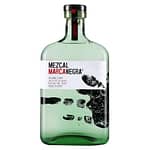 Mezcal Marca Negra Espadin 750ml
Sale!
Mezcal Marca Negra Espadin 750ml
-15%
Product images are for illustrative purposes only and may differ from the actual product due to label and design changes. Please contact us first if you are looking for specific versions. Otherwise, we ship based on the product name.
Distilled from estate-grown espadín agave averaging 7 to 10 years of age, and is double-distilled in pot stills after the agave hearts are roasted in traditional stone lined pits. The Marca Negra expressions each detail things such as location of the distillery, production details, and the name of the Mezcal Marca Negra Espadin. The square bottle is marked with a black handprint intimating the hand of the mezcalero (distiller) which in the espadín expression is Abel Nolasco Velasco.
Mezcal Marca Negra Espadin from the much-loved Marca Negra selection, made with the also-incredibly-popular agave variety, Espadín. This particular agave makes excellent spirit, hence its popularity among distillers and mezcal drinkers alike.
Mezcal Marca Negra Espadin is a premium mezcal joven, hand-crafted in small batches by best Oaxaca distillers. The unique bottle features the signature of the distiller and details about the batch. This authentic spirit, made from 100% Espadin agave, will do well neat or in a cocktail.
As you know, most mezcals are made from Agave angustifolia, varietal espadin, so they are quite common.  At 49% ABV this is stronger than most but the alcohol does not overpower the spirit.  It has a nice, soft perfume on the nose.  On the palate I find nice notes of roasted agave and an elegant, medium finish.  Like most espadins, and their accompanying price points, this will work great in a cocktail and you can enjoy it neat as well.
Nose:
You've got Mezcal smokiness up front, though in the background there's fragrant, almost perfumed notes wafting through.
Palate:
Well-cooked agave with a touch of char. Citrus fruit notes develop on the mid palate, with a little hint of freshly chopped herbs.
Finish:
Herbaceous with smoke and tobacco.
Overall:
Quite a bold expression, though rather good for showing off classic Mezcal characteristics (as well as cocktails, of course).