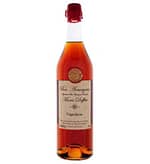 Marie Duffau Bas Armagnac Napoleon 750ml
Sale!
10%
Marie Duffau Bas Armagnac Napoleon 750ml
$108.98 
Product images are for illustrative purposes only and may differ from the actual product due to label and design changes. Please contact us first if you are looking for specific versions. Otherwise, we ship based on the product name.
Marie Duffau Bas Armagnac Napoleon
Using only estate-grown grapes from the heart of Marie Duffau Bas Armagnac, this 6-year-old expression has a complex array of aromas. Dried fruits such as prunes, apricots, and raisins fill the headspace of the glass. The taste has warming flavors of caramel, plum, and spice that leave your palate fully coated and fulfilled.
The marriage of Prosper Delord, traveling distiller, and Marie Duffau Bas heiress to several hectares of vineyards in the 1890s has resulted in this golden amber elixir. Intense sweet caramel and vanilla notes on the nose meet flavors of caramel, fig, and vanilla with a light floral note on an enduring finish.
BRAND: Marie Duffau
COUNTRY: France
STATE: Armagnac
SPIRITS TYPE: Brandy & Cognac
SPIRITS STYLE: Armagnac
The opening nosing find smells of roasted chestnut and baked pear; later sniffings pick up succulent notes of pineapple, caramel, black raisins, prunes, and old oak. The palate entry is creamy textured and semisweet; at the midpalate, the flavor becomes integrated and very nutty/woody. Concludes oily, semisweet, and oaky.
It smells a bit immature on the nose. It has some spicy, peppery notes, caramel, and some interesting fruit – dates, mainly, and some vanilla.  The palate continues on, a bit dry, with those spicy peppery notes, the lightest touch of caramel, and slight raisin. It's ok…nothing special. The tannins from the oak are present and linger on to the finish. The finish is woody, with typical spices of cinnamon, clove, and nutmeg and a touch of bitterness.