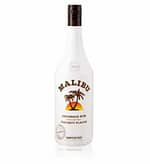 Sale!
Malibu Rum 1ltr
-20%
Product images are for illustrative purposes only and may differ from the actual product due to label and design changes. Please contact us first if you are looking for specific versions. Otherwise, we ship based on the product name.
One of the world's most iconic liqueurs, Malibu sees a Caribbean white rum base blended with natural Bajan coconut extract. The creamy spirit is a great start for many a tropical cocktail, particularly a Piña Colada or a Daiquiri.
Nothing beats an original, and Malibu is not only an original, it is the world's best-selling Caribbean rum with natural coconut flavor. The taste of Malibu is Barbados in a bottle smooth, fresh coconut flavor with a sweet finish perfect for bringing the island to any time.
Malibu Original is the best-selling coconut-flavored rum in the world, delivering a smooth and sweet flavor that complements all your favorite tropical cocktails.
This rich Caribbean rum is aged in oak barrels for two years to develop its complex, sweet flavor. The recipe has basically remained unchanged for more than 100 years and is crafted with Caribbean sugarcane and pure water.
As the first sip touches your taste buds, you will feel as though you're transported to a tropical beach on the islands where you're watching the palm trees sway in the breeze.
Try Malibu Original in a number of cocktails. Blend it with fresh strawberries for a flavorful daiquiri or shake with orange juice and grenadine to enjoy a fruity Caribbean Sunrise. Malibu Original is also delicious on its own or mixed with cranberry juice or cola.
Don't forget to sample the spirit in a piña colada, a drink Malibu had in mind when its Caribbean rum was originally crafted.
Nose:
Demerara sugar, spices, not that much coconut on the nose – more rum-like than anything else.
Palate:
The coconut is at the fore creamy, custard-like delivery with syrupy spices, Demerara sugar, tropical fruits, and hints of pineapple.
Finish:
Creamy, sweet finish.