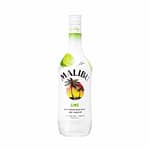 Malibu Lime Rum 1L
$84.98
Product images are for illustrative purposes only and may differ from the actual product due to label and design changes. Please contact us first if you are looking for specific versions. Otherwise, we ship based on the product name.
Mix Malibu Lime Rum and soda water for a refreshing low-cal cocktail, add a half-ounce to a Daiquiri for a tropical twist, mix it with cola for an easy two-ingredient Highball, or shake it up with some pineapple juice for a cheater's Piña Colada.
The new product, which comes in the signature white bottle, markets itself as Caribbean rum with lime liqueur. It's 21 percent alcohol and tastes much more subtle than you might expect. If you think you're in for a sugary coconut bomb with just a hint of lime, think again.
In fact, the coconut takes a back seat to the lime in this spirit. It's straight-up citrusy not quite like fresh lime, but like a good glass of limeade with a splash of coconut water. Unlike a lot of flavored spirits, this one actually makes sense.
Lime and coconut are two flavors that belong side by side, so it's amazing it took this long to put them together in the same bottle.
We probably won't be sipping Malibu Lime on the rocks come summer, but we did try it straight at room temperature and didn't bat an eye. This is easy-drinking stuff with many cocktailing possibilities.
Just in Lime for the summer! New Malibu Lime has a bold and juicy taste with a fresh lime finish, perfect with any mixer and any occasion. Give your celebration an extra twist with the new Malibu Lime Rum.
Nose:
Bold lime aromas.
Palate:
Juicy lime flavors.
Finish:
Fresh Lime finish.
| | |
| --- | --- |
| Category | Rum |
| Region | Barbados |
| Brand | Malibu |
| Alcohol/vol | 21% |
| Proof | 42.00 |