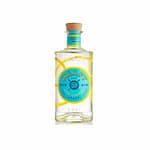 Malfy Gin Con Limone 750 Ml
Sale!
Malfy Gin Con Limone 750 Ml
-20%
Product images are for illustrative purposes only and may differ from the actual product due to label and design changes. Please contact us first if you are looking for specific versions. Otherwise, we ship based on the product name.
Malfy Con Limone Gin :- From the birthplace of gin comes Malfy, pure Italian gin. The word 'gin' is derived from the Italian word for juniper, ginepro, which is one of the key aromatics used in this spirit. Delicious, with a hint of Italian lemon, this is the taste of Italy.
Malfy Con Limone Gin is a unique combination of a family made Italian product, yet with a global vision set out by an entrepreneurially minded US based company, Biggar & Leith.
Malfy Gin is made on the outskirts of Turin by Torino Distillati. Historically, the area of Moncalieri was traditionally famed for the production of quality liqueurs. Take vermouth for example with Carpano, Cinzano and Martini Rossi all based nearby. The distillery was first established in 1906 by Fratelli Ferrero di Riccardo, a Piedmontese family known for operating in the wine and vermouth business. Saving a few twists and turns of history here, in the 60s it was taken over by the Canadian company Seagram.
In 1992 Carlo Vergnano, who was at the time the technical and operational director of Seagram Italia, bought the Moncalieri plant from Seagram in a management buy-out operation, and set up Torino Distillati.
Premium craft gin from Italy
Distilled using Italian juniper and lemons from the Amalfi coast and Sicily
Perfect straight up over ice, in a gin and tonic, or in a traditional Italian Negroni