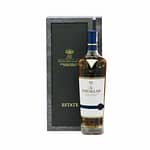 Macallan Estate Reserve Single Malt Scotch Whisky 750ml
Sale!
10%
Macallan Estate Reserve Single Malt Scotch Whisky 750ml
$799.00 
-2%
Product images are for illustrative purposes only and may differ from the actual product due to label and design changes. Please contact us first if you are looking for specific versions. Otherwise, we ship based on the product name.
"Situated on a ridge above the banks of the River Spey, the Easter Elchies House has been the spiritual home of The Macallan Estate Reserve for over three centuries. In 1820, Alexander Reid began renting the home from Sir Lewis Grant of Grant. In the winter when there was little activity on the farm Reid would ferment and distill his excess grains into whisky, which was often drunk straight from the still or sold to travelers passing through the town.
Today, the Macallan Estate encompasses 370 acres, 95 of which are devoted to the production of the Macallan Estate's Minstrel barley. In addition, the distillery contracts with farmers to purchase barley that is low in nitrogen and high in starch, resulting in a rich and oily whisky.
Following distillation, The Macallan distillers remove the heads and tails of the whisky and collect approximately 16% of the spirit to fill into casks for maturation.
The Macallan Estate Reserve is a part of The 1824 Collection, this classic style of Macallan includes a parcel of specially selected casks to deliver great richness and intensity.
Sourced, crafted, toasted, and seasoned under the watchful eye of The Macallan Master of Wood, these hand-picked casks are delivered to the demanding specifications of The Macallan Master Distiller and his team.
Once filled, the maturing spirit remains undisturbed in the same casks for the necessary number of years it needs to be worthy of its destined Macallan expression. It is these oak casks that make the greatest contribution to the quality, natural color, and distinctive aromas and flavors which lie at the heart of The Macallan single malt.
Nose:
Sherry on the nose, sweet Olosoro, pepper, berry fruits, calves leather, and cedarwood.
Palate:
Spices, nutmeg, cinnamon, rich sherry, cocoa, coffee beans, and caramel.
Finish:
Citrus, potpourri, malt, berry fruits, toasted walnuts, almond oil.