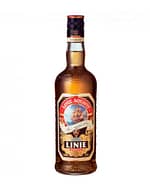 Sale!
10%
Linie Aquavit 700ml
$84.98 
Product images are for illustrative purposes only and may differ from the actual product due to label and design changes. Please contact us first if you are looking for specific versions. Otherwise, we ship based on the product name.
Linie Aquavit Original is made using a recipe which is unchanged for over 200 years. It is a potato-based spirit flavored with caraway and aniseed. The aquavit is placed into Spanish oloroso sherry casks and sent on a round-trip sea voyage from Norway to Australia which takes about 4 months crossing the equator twice. The aquavit ages a total of 16 months and is bottled at 41.5%.
The original botanical recipe of LINIE Aquavit has remained unchanged since its creation, more than 200 years ago. LINIE is a potato-based spirit, distilled in pot stills with a special blend of herbs and spices to give its distinct flavor. The young spirit is placed in Spanish Oloroso sherry casks to develop further, and ultimately the casks are sent on a journey across the world, crossing the equator twice, to mature its precious content at sea. The result is an extraordinarily smooth and well balanced aquavit, with unmistakeable leading notes of caraway and aniseed.
Tasting Notes Of  Linie Aquavit
Nose: Intense and herbal, with a whack of menthol at first, followed by caraway, aniseed and a hint of lemon peel.
Palate: Overtly spicy. Caraway and aniseed are the predominant flavours, backed up by orange, coriander, fennel seeds, wood spice and a hint of brine.
Finish: Long, herbal and spicy with aniseed left at the very end.