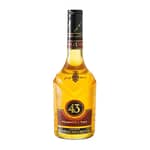 Licor 43 Cuarenta Y Tres Liqueur 1L
Sale!
Licor 43 Cuarenta Y Tres Liqueur 1L
-20%
Product images are for illustrative purposes only and may differ from the actual product due to label and design changes. Please contact us first if you are looking for specific versions. Otherwise, we ship based on the product name.
Licor 43 Cuarenta Y Tres Liqueur
Licor 43 is a liqueur with a complex, but harmonic flavor profile that can be perceived at four levels- citrus, botanic, sweet, and floral. Reminiscence to the lively citrus aromas of Mediterranean citrus gardens. The subtle spiced touch of coriander. The sweet palate of mature fruit and nuances of vanilla. Soft notes of Mediterranean orange and lemon blossom, with a certain point of astringency derived from the peel of citrus fruits, smoothed with notes of mature fruits.
Bright yellow in the glass and lightly spiced, this versatile liqueur is made with 43 ingredients, hence the name. The flavor profile runs from vanilla to brown sugar and baking spice. It plays particularly well with dark spirits like rum and brandy, without overpowering.
Category: Liqueurs & Cordials
Region: Spain
Brand: Licor 43
Alcohol/vol: 31%