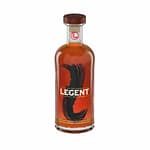 Legent Truly Unique Bourbon Whiskey 750ml
Legent Truly Unique Bourbon Whiskey 750ml
$115.00
Product images are for illustrative purposes only and may differ from the actual product due to label and design changes. Please contact us first if you are looking for specific versions. Otherwise, we ship based on the product name.
Legent is a bourbon, but it's unlike anything you've ever tried because it's unlike anything that's ever been created. It's an unprecedented collaboration between two whiskey legends Fred Noe, from the founding family of bourbon and Jim Beam's seventh-generation Master Distiller, and Shinji Fukuyo, from the founding house of Japanese whisky and Suntory's fifth-ever Chief Blender.
For Fred and Shinji, Legent™ started as a passion project, a chance to continue their pursuit of mastery. Even after numerous awards and reaching the pinnacle of their respected whiskey-making worlds. Fred and Shinji realized there was much they could learn from one another. That they could push bourbon's boundaries as well as their own.
Leaning into the heritage of Kentucky bourbon-making and Japanese whisky-blending techniques. Legent brings the best of two whiskey worlds together. But landing on the final recipe for Legent took Fred and Shinji years of sitting. Talking, tasting and meticulous decision-making. The result is an entirely new way to create bourbon that transcends the broader whiskey category. Legent Truly Unique Bourbon is a bourbon with a flavor profile unlike anything else, one that stands out in a cocktail or can be easily enjoyed neat or on the rocks. Legent truly is a bourbon as unique as the two whiskey legends who made it.
Nose:
Plenty of classic bourbon character is at the forefront of the nose but the cask influence adds balance and depth. Brown sugar, toasted almonds, jammy fruits, butterscotch, vanilla and orange peel combine initially, with delicate warmth and spice provided from ginger root underneath. A hint of Pinot Noir and stewed black cherry emerge as the nose develops, with milk chocolate, sandalwood and hints of leather.
Palate:
An initially deliciously silky delivery leads with rich caramel, floral notes and a suggestion of marmalade before chewy rye spice initially makes things more complex among savoury notes of roasted peanuts and a slightly bitter quality from charred wood, coffee beans and unsweetened dark chocolate. Dark cherry jam and stewed plums then burst through adding vibrant fruitiness alongside the sweetness of vanilla, cake batter, muscovado sugar and a hint of cola. Warmth from freshly-ground black pepper is present in the backdrop.
Finish:
Chocolate-covered cherries, black fruits, sugary cereals and a hint of liquorice fade ever so gradually; while the nutmeg and oak spices play about for longer.