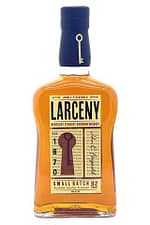 Larceny Kentucky Bourbon Whiskey Small Batch 750ml
Sale!
Larceny Kentucky Bourbon Whiskey Small Batch 750ml
-20%
Product images are for illustrative purposes only and may differ from the actual product due to label and design changes. Please contact us first if you are looking for specific versions. Otherwise, we ship based on the product name.
Larceny Kentucky Bourbon Whiskey, named for one of the more colourful character in whiskey history. Y'see, John E. Fitzgerald was a bonded treasury agent, one of the only people to carry keys to the storage warehouses. He was also something of a whiskey enthusiast, and didn't mind using the aforementioned keys to get at some of whiskey with the barrels inside the aforementioned storage warehouses.
The Larceny Kentucky Bourbon Whiskey itself makes use of wheat, rather than the more commonly used rye, as the second grain, making for a mellow, creamy expression. This superb bourbon has pleasantly sweet flavors of graham cracker, freshly baked wheat bread, and sawdust. The palate has great richness without showing alcoholic heat and gently tapers into a finish of vanilla cream and toasted oranges.
Larceny Small Batch is a brand extension of Heaven Hill's Old Fitzgerald line. According to their story, back in the day, John E. Fitzgerald used his privilege of holding the keys to Pappy Van Winkle's bonded warehouse, where the Old Fitzgerald bourbons were kept, to steal the best casks for himself. These became known as the "Fitzgerald Barrels." Larceny is a wheated straight bourbon made from a blend of selected barrels made in honor of this legend. It bears no-age statement and is bottled at 92 proof.
Larceny Kentucky Bourbon Whiskey is a very solid, classic bourbon for the money. Banana bread aromas (bananas, sugar and nuts) on the nose with more oak spice on the tongue. It's more on the sweet side of the bourbon spectrum, but still enjoyable, and doesn't finish too hot.
Nose:
Brioche dipped in fruity coffee, cedar, a kick of aromatic coriander.
Palate:
Buttered corn, molasses, malt loaf, slowly build Christmas spices.
Finish:
Peppery at first, though soon enough the fruity coffee notes return and give it a sweet profile.