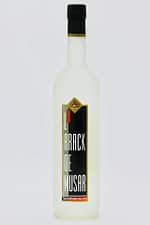 Sale!
L'Arack De Musar 750ml
-15%
Product images are for illustrative purposes only and may differ from the actual product due to label and design changes. Please contact us first if you are looking for specific versions. Otherwise, we ship based on the product name.
This L'Arack de Musar traditional arack is produced by Chateau Musar, one of the best known Lebanese wineries. It is distilled four times (three is the norm) and is rested for one year and two years in terracotta amphorae.
The grape spirit that forms the base of Chateau Musar's Arack is made from Obaideh and Merwah grape varieties which are indigenous to the mountains of Lebanon. Planted between 1920 and 1947 the Obaideh vineyards are in the foothills of the Anti-Lebanon mountains near Ain Arab on stony, chalky soils, while the Merwah vines are on the seaward side of Mount Lebanon in Baqaâta, on calcareous gravels. Yields are very low for these untrained bush vines: 25 hl per hectare. At high altitude (around 1400m) these vines are still on their own root stock. Anis seeds are added to the four and final distillation. Finally the distillate is rested 12-24 months in terracotta jars (Roman style 'amphorae').
L'Arack de Musar is best served with iced water in the same manner as French pastis.
The Chateau Musar Arack is made from grape alcohol with an average age of five years. Traditionally, arak is distilled twice, the anis seeds are added in the third distillation. L'arack de Musar is unique in that it is distilled four times with the addition of anis seeds during the 4th distillation. After distillation, it is aged for one year in terracotta amphora's which contribute to its liquorice aroma.
It is customary to add water to Arack when serving it as a digestif, but L'arack de Musar can be enjoyed without water. It is surprisingly smooth, sweet and very easy to drink. The additional distillation results in a very pure and sophisticated Arack.
Appearance:
Crystal clear (louches/turns cloudy with addition of water).
Aroma:
Intense, clean aniseed and fennel with faint liquorice.
Taste:
Wonderfully clean, very strongly aniseed flavoured dry palate.
Aftertaste:
Long, lingering powerful aniseed.