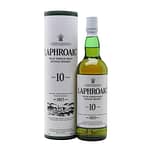 Laphroaig Single Islay Malt 10 Year Old 750Ml
Sale!
Laphroaig Single Islay Malt 10 Year Old 750Ml
-20%
Product images are for illustrative purposes only and may differ from the actual product due to label and design changes. Please contact us first if you are looking for specific versions. Otherwise, we ship based on the product name.
Laphroaig Single Islay Malt is the original Laphroaig, distilled the same way today as when Ian Hunter invented it more than 75 years ago. It is the foundation of all other Laphroaig expressions.
In making Laphroaig, malted barley is dried over a peat fire. The smoke from this peat, found only on Islay, gives Laphroaig its particularly rich flavor.
Those enjoying the Laphroaig Single Islay Malt will first notice the bold, smoky taste, followed by a hint of seaweed and a surprising sweetness. This full-bodied variant is the foundation of all Laphroaig expressions and comes with a long finish.
Laphroaig 10yo is a full-bodied, smoky gem, with a residual sweetness and a hint of salt amid the seaweedy, peaty characters before a long warming finish. A classic dram.
Really smoky and iodine-rich. This has to be one of Scotland's most characterful drams. Laphroaig is known for its medicinal malts, and the classic 10-year-old is no exception.
Nose:
This opens on big, smoky muscular peat notes. There are spices, and licorice, as well as a big dose of salt. This whisky has become slightly sweeter in recent years, and it appears beautifully on the nose, amidst the classic iodine/sticking plasters and cool wood smoke we love.
Palate:
Seaweed-led, with a hint of vanilla ice cream and more than a whiff of notes from the first aid box. The oak is big and muscles its way into the fore as you hold this whisky over your tongue. An upsurge of spices develops cardamom/black pepper/chili.
Finish:
Big and drying, as the savory, tarry notes build up with an iodine complexity.
Overall:
The only malt from Laphroaig's range that John Campbell recommends with water; try it, it opens up the palate massively, providing a dazzling array of additional flavor.