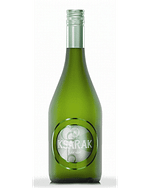 Sale!
5%
Ksarak Arak 750ml
$68.98 
Product images are for illustrative purposes only and may differ from the actual product due to label and design changes. Please contact us first if you are looking for specific versions. Otherwise, we ship based on the product name.
Ksarak Arak
Ksarak Arak alcohol is redistilled in a specially designed alembic in France with the aniseed. Ksarak's innovative technique discloses the heart of the arak through an independent pipe to obtain the real "pure flower". Finally, this spirit is refined to release the purest and healthiest arak. Ksarak is finally matured for two years in clay jars manufactured in Beit Chebab following ancestral norms.
An outstanding example of arak, Lebanon's national drink, Ksarak is made with the finest grape alcohol and aniseed from the Al Heenah area of Mount Hermon in eastern Lebanon (considered the finest aniseed in the world). The spirit is distilled to release the purest arak, which is then aged for two years in clay jars. It is best served with water and ice. A clean and crisp arak produced from selected grapes, the triple distilled with the finest aniseeds then matured for two years in clay jars.
The arak of Chateau Ksara is a truly authentic expression of Lebanon's traditional, anise-flavored spirit.  It is produced in a specially-designed alembic still using an innovative technique to assure that only the heart of the distillate, the real "pure flower", is used.  Finally, following ancestral norms, Ksarak is matured for two years in clay jars from Beit Chebab before it is at last ready for consumption.