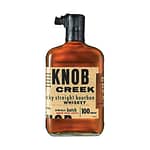 Knob Creek Bourbon 750 Ml
Knob Creek Bourbon 750 Ml
$85.00
Product images are for illustrative purposes only and may differ from the actual product due to label and design changes. Please contact us first if you are looking for specific versions. Otherwise, we ship based on the product name.
Knob Creek Small Batch Bourbon is one of four bourbons that comprise Jim Beam's Small Batch Bourbon Collection. The others are Basil Hayden's, Baker's Bourbon, and Booker's Bourbon. Beam states that they "age every batch in maximum-char barrels to pull every bit of natural sweetness from the oak."
From its initial release in 1992 up to late 2016, Knob Creek carried a 9 year age statement. In 2016 Beam removed the age statement saying that they could not guarantee all barrels would be aged to 9 years due to inventory issues. Last year they announced the 9 year age statement will return in 2020.
Knob Creek Bourbon was named after a little creek that runs just south of the distillery, the same creek that ran by Abraham Lincoln's childhood home. Booker Noe, 6th generation Beam and master distiller emeritus created Knob Creek to reflect the strength, flavor, care, and patience that defined pre-prohibition bourbon.
A beautifully fragrant nose of smoked jerky, toasted biscuit, and raisin cookie introduce this lightly spicy bourbon. The full bodied mouthfeel has a gentle sweetness that ends in a triumphant burst of spice cake and saddle leather.
NOSE:
Thick caramel, oak, lightly toasted marshmallows, and a hint of vanilla greet you. Knob Creek Small Batch manages to hide its proof well as very little ethanol is present. The classic scents are bold and rich, presenting a great way to start the sip.
palate:
Compared to the nose, the palate's flavors aren't as rich, and come across lighter. Those flavors that are present come across as sweeter overall. Sweet vanilla leads the way, followed by light oak, green peppercorns, a hint of caramel, and creme brulee. It's a nice combination, but leaves you wishing that it was just a tad bolder.
finish:
The finish is more one dimensional compared to the nose and palate. Aged oak and rye spice mingle with a touch of leather. While it may be one dimensional, it makes up for it in its length. These flavors stay for a while and ultimately leave you with a long lasting oaky spice that is a great way to end the sip.