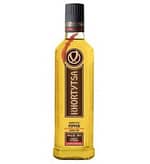 Sale!
Khortytsa Pepper Vodka
-15%
Product images are for illustrative purposes only and may differ from the actual product due to label and design changes. Please contact us first if you are looking for specific versions. Otherwise, we ship based on the product name.
Khortytsa Pepper Vodka
Khortytsa Pepper Vodka is made from a grain-base using the traditional recipes and modern distilling technologies prevalent in the Urkaine. According to an informative article from Leon Bleiweiss writing for the Gentleman's Gazette, the label was founded in 2003 by Eugen Chernyak and named for the island of Khortitsa in southeast Ukraine on the Dniepr River, whose mineral spring water is used to blend down the vodka.
Khortytsa Honey Pepper vodka is the sweet and spicy expression, popular in many parts of eastern Europe.
The flavor for Khortytsa-Pepper Honey Hot is derived from a delicate blend of hot red pepper and a mild fragrant Crimean honey, brought together for the real connoisseur together for the real blended with crystal clear water, completes our authentic spirit.
Ukraine's first
vodka
with natural whole pepper inside! The formulation ensures a maximum delivery of red-pepper piquancy while retaining its natural and rich flavor. Many people value this vodka for its warming and health-giving qualities. Khortytsa Pepper Honey Hot combines green-mint coolness, red-hot pepper, and the mild, smooth flavor of lime honey.
Khortytsa—that is best in the world of vodka. This vodka embodies a philosophy of total quality. Khortytsa contains high-quality raw materials, the latest technology, and a unique bottle design that is admired in the world centers of industrial design and by the best experts in the industry. Khortytsa is the ideal content, clothed in the perfect shape.
For a limited time only Khortytsa  Pepper Vodka is paired with a trial size of our Khortytsa Platinum 100ml in a holiday gift pack! The Hot Honey Pepper Vodka has been crafted with care; our wheat is hand-cut and our chili peppers are hand-selected.
Color:
colorless
Nose:
classic with notes of menthol
Palate:
fresh strong taste with hints of mint
Ingredients:
wheat tear alcohol, water, sugar, menthol, glucose, aromatic mint infusion