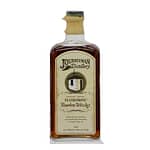 Journeyman Distillery Featherbone Organic Bourbon Whiskey 750 ml
Sale!
Journeyman Distillery Featherbone Organic Bourbon Whiskey 750 ml
-10%
Product images are for illustrative purposes only and may differ from the actual product due to label and design changes. Please contact us first if you are looking for specific versions. Otherwise, we ship based on the product name.
Journeyman Featherbone bourbon is named for the location of the distillery. Which is on the site of the Featherbone factory that once manufactured corsets and buggy whips.
It is made from a grain bill of organic corn with the balance in Michigan grown organic wheat and a dash of rye. To us, this puts the Featherbone in the slightly niche class of "wheated bourbon" category similar in style to Maker's Mark or WL Weller–designed for smoother, softer flavors.
Distilling Bourbon is classically American, which is why we named this whiskey Featherbone Bourbon after the innovative product once manufactured in this building a century ago at a time when manufacturing in Michigan was synonymous with American made.
The Featherbone was a revolutionary product created and manufactured in Three Oaks by E.K. Warren, a staunch prohibitionist. Today, we create a quite a different kind of Featherbone at Journeyman and find it ironic to be operating a grain-to-bottle distillery in this once "dry" community.
Journeyman Featherbone Bourbon Whiskey is bottled at 90 proof and comes in at a retail price of $45. It is distilled by Journeyman Distillery in Three Oaks, Michigan. The mashbill is 70% corn, 25% wheat, and 5% rye.
All of the ingredients are organic, and the whiskey is non age stated. The product is made during a single distillation and is created in small batches.
Color:
Caramel
Nose:
The nose offers notes of chocolate and peanut butter almost like a Reese Cup, floral notes, and cherries. It smell rich and creamy.
Palate:
This whiskey has a low to medium viscosity with notes of peanut butter, cinnamon, flowers in the spring, light caramel, and dark chocolate.
Finish:
There is a medium finish with notes of cinnamon, chocolate, and peanut butter. The palate flows into the finish and is very pleasant.