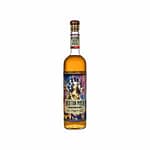 John Drews Brixton Mash Destroyer Rum & Bourbon Blendjohn Drews Brixton Mash Destroyer Rum & Bourbon Blend 750 ml
John Drews Brixton Mash Destroyer Rum & Bourbon Blendjohn Drews Brixton Mash Destroyer Rum & Bourbon Blend 750 ml
$99.00
Product images are for illustrative purposes only and may differ from the actual product due to label and design changes. Please contact us first if you are looking for specific versions. Otherwise, we ship based on the product name.
Brixton Mash Destroyer Rum is a unique spirit and holds true to the style John Drew Brands. It also tastes almost exactly as one would expect – like a sweet bourbon. It's good and the only major flaw is the noticeable alcohol burn. Beyond that it is not overly complex but could be a fun ingredient for cocktails, or a good choice for someone who likes sweeter spirits on the rocks. The Brixton Mash Destroyer is a blend of Kentucky Bourbon and Florida rum.
The Brixton Mash Destroyer was recently released from John Drew Brands. Entrepreneur John Drew grew in prominence through his craft cigar company, which tends to market towards the higher-class edge of cigar smokers. This Brixton Mash Destroyer is a continuation of the brand's desire to create new luxury style products. It features a unique idea and bold marketing partnered with an artist named Raptuz.
Tasting Notes Of Brixton Mash Destroyer Rum
Vital Stats: 
90 proof, blend of Kentucky straight bourbon and Florida rum, 750ml for $42.99.
Appearance: 
Vivid yellow to gold.
Nose: 
Marshmallow sweetness backed by wood and baking spice. A lot of alcohol at first, dissipates and mellows nicely with time in a glass.
Palate:
 Reminiscent of a sour mash bourbon old fashioned, with a bourbon-esque backbone with a cane sugar sweetener. Chocolate, wood, and a slight oatmeal nuttiness. Alcohol is noticeable and time in a glass or water mellows the palate and allows for more complexity.