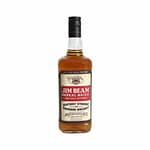 Jim Beam Repeal Prohibition Batch Bourbon Whiskey Limited Edition 750ml
Sale!
20%
Jim Beam Repeal Prohibition Batch Bourbon Whiskey Limited Edition 750ml
$93.00 
Product images are for illustrative purposes only and may differ from the actual product due to label and design changes. Please contact us first if you are looking for specific versions. Otherwise, we ship based on the product name.
Jim Beam Repeal Prohibition Batch Bourbon Whiskey Limited Edition
"For the 85th anniversary of Repeal Day, we wanted to release a bourbon inspired by our heritage and dedicated to the hard work my great-grandfather put into rebuilding our family business after Prohibition," said Fred Noe, Jim Beam's seventh generation master distiller. "Jim Beam Repeal Prohibition pays tribute to all the generations of Beams that came before me."
After a 13-year hiatus from the bourbon industry during Prohibition, and at nearly 70 years old, James B. Beam and his family rebuilt the distillery in Clermont by hand to get the family business up and running once again. Today, Jim Beam is the best-selling bourbon in the world.
Jim Beam Repeal Prohibition Batch is aged four years, similar to Jim Beam® Bourbon, however this unique liquid is non-chill filtered, resulting in a bourbon with fuller mouthfeel and tasting notes that include char, oak and caramelized tones. It has a light amber color, with an aroma that carries oaky notes, balanced with light vanilla and a hint of brown spice.
Vital Stats:
The whiskey is aged for four years, non-chill filtered and bottled at 43% ABV. It is priced around $18 per 750 ml bottle.
Appearance:
It's coppery in color, bright and golden like a shiny penny. The legs are slightly oily, lingering on the glass in little droplets.
Nose:
Buttered popcorn, charred oak and vanilla stand out initially. They're followed by background whispers of toffee, black pepper, honey, cloves and almonds. It errs on the sweeter side, with an interesting aroma of savory flavors sprinkled in.
Palate:
It's got a nice balance of charred oak and vanilla sweetness that you might find in any bourbon. The mouthfeel does stand out as bolder and more complex than what you would typically find from Jim Beam Bourbon. The texture is a bit oily, and coats the mouth first with heavy char flavor, followed by notes of persimmons, cinnamon, corn, vanilla and butterscotch. The sweetness was balanced nicely, although the char flavor was sometimes a little overpowering.
Finish:
The finish is spicy with cinnamon and rye flavors, lasting about as long as I wanted it to, maybe 15 seconds. Overall, a solid release at a great price point.