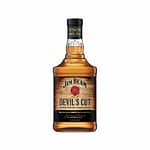 Jim Beam Devils Cut 90 Proof Bourbon Whiskey 750 Ml
Sale!
Jim Beam Devils Cut 90 Proof Bourbon Whiskey 750 Ml
-20%
Product images are for illustrative purposes only and may differ from the actual product due to label and design changes. Please contact us first if you are looking for specific versions. Otherwise, we ship based on the product name.
The backstory behind this bottling is that Master Distiller Fred Noe uses a "barrel sweating" technique to coax out Bourbon. That has soaked into barrels during aging; that extract then is combined with newer whiskey. The end result is a lean and austere Bourbon, with brisk espresso. Black tea and fig flavors highlighted by black pepper and clove. Seems made for mixing.
Jim Beam has cleverly coined the term "Devil's Cut" to describe whiskey which has soaked and become trapped into the barrel and is typically not used in the production of whiskey. This trapped whiskey is what makes bourbon barrels so attractive for use in aging other spirits. Like scotch whisky, tequila and rum.  For their new Jim Beam Devil's Cut Bourbon. Jim Beam has extracted this trapped whiskey using a proprietary process with steam and water and then blended that extracted whiskey with some of their regular aged bourbon.
This is the result of taking 90 proof Jim Beam Bourbon and extracting spirit absorbed into the wood of the barrels itself and blending them together. The result is a punchy oak-fest of a Bourbon, surely the drink of the devil himself.
Nose:
Immensely woody, fresh cut oak and a whole heap of vanilla and wood spice.
Palate:
The American oak vanilla remains powerful with a rich woodiness joining it.
Finish:
Yep still oaky, the finish is reasonably long with a pinch of spice scattered on top of that persistent vanilla flavour.
Overall:
Well this is definitely a woody drink, and it is an interesting experiment in what can be achieved through wood extraction.