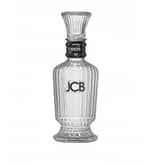 Caviar Infused Vodka Jcb By Jean Charles Boisset
Caviar Infused Vodka Jcb By Jean Charles Boisset
$314.98
Product images are for illustrative purposes only and may differ from the actual product due to label and design changes. Please contact us first if you are looking for specific versions. Otherwise, we ship based on the product name.
The Caviar Infused Vodka Jcb vodka flavored with Caviar, Jean-Charles Boisset is pushing the limits of possibility in the spirits world. Jean-Charles sets forth a vision of the wine world is centered on family. Passion, history, innovation, a commitment to fine wines, a dedication to sustainable winegrowing. And a Franco-American spirit. Now he brings that passion to his new line of vodka and gin. From The Somm Journal, "JCB Caviar Vodka. We ventured from garden to forest and now to the sea, where this vodka captures merroir.
Made From The Best Mother Earth Has To Offer: Sustainably Grown Grapes From The Côte-D'Or. The Pinot Noir Grapes Are Hand-Picked And Hand-Sorted, Partially De-Stemmed And Fermented In French Oak Open-Top Vats For More Than 20 Days. The Wine Is Then Aged In Barrel For 6 Months.
The Caviar Infused Vodka Jcb, Also Hand-Picked And Sorted, Are Gently Pressed To Release The Natural Golden Juice, Then Fermented And Aged In French Oak Barrels For 6 Months.
From The Foundation Of Our Vintage Vodka, We Created The Two Most Luxurious, Original And Sophisticated Infusions Of The Ultimate Natural Ingredients To Create A Sensory Delight.
It Is The Most Challenging And Difficult To Achieve, Taking Over 12 Years Of Research To Attain This Level Of Perfection! We Brought Together Our Vodka With Sturgeon Caviar From Southwest France. It Provides The Most Opulent And Decadent Mouthfeel.
Nose:
Aromas of anise and cocoa warm the nose
Palate:
There is a definite, resplendent scent of sea breeze guiding the way to the deeper palate flavors. Creamy licorice coats the tongue while dark chocolate possesses a hint of saltiness.
Finish:
On the finish, tobacco leaf emerges, and it's believable that this spirit is blessed by a unique infusion of ingredients: Caviar, Chardonnay, and Pinot Noir may have been a concoction conceived by Neptune himself.