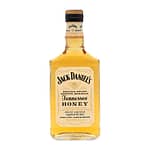 Jack Daniels Tennessee Honey 1L
Sale!
Jack Daniels Tennessee Honey 1L
-20%
Product images are for illustrative purposes only and may differ from the actual product due to label and design changes. Please contact us first if you are looking for specific versions. Otherwise, we ship based on the product name.
A blend of Jack Daniel's Tennessee Whiskey and a unique honey liqueur of our own making, for a taste that's one-of-a-kind and unmistakably Jack. With hints of honey and a finish that's naturally smooth, Jack Daniel's Tennessee Honey offers a taste of the unexpected.
It is amber yellow in color, this liqueur looks a lot like a bottle of clover honey. The nose is sweet and spicy, with solid cinnamon notes and a light floral undertone. The entry opens with clear honey notes which is quickly backed up by a perfect level of cinnamon.
There's more spice here than heat and the spice is absolutely dialed in. The cinnamon fades in the mid-palate and gives way to a subtle milk chocolate note which lingers after a fairly swift finish. There's absolutely no heat in the finish, and for a sweet honey liqueur, it impressively doesn't leave a heavy residue on the palate.
Long awaited in the UK and with a big following in the USA, this is Jack Daniel's honey and whiskey liqueur. A mix of regular Old No 7 and a spiced honey liqueur, it's got spice, sweetness, floral undertones and a long smooth finish. Drink over ice, chilled or even in a cup of coffee – it's rather tasty.
NOSE
Pungent honey right off the bat – a freshly opened jar of crystallised honey, with a touch of earthiness to it – fudge, biscuits (British ones), floral hints and some allspice.
PALATE
Thick and oily texture, with dark caramel (both runny and solid shards), nutmeg and allspice. The flavours remain rich and dark, with sweet milky coffee, dark chocolate and demarara sugar lightened by some candied lemon hints. There's also, as you might expect, a rich and sweet honey undertone beneath it all – lightly pungent and floral, with a real honey flavour.
FINISH
Spicy and sweet, with cinnamon heat, runny honey and vanilla fudge.
| | |
| --- | --- |
| Category | Whiskey |
| Region | United States, Tennessee |
| Brand | Jack Daniel's |
| Alcohol/vol | 35% |
| Proof | 70.00 |