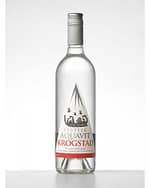 House Spirits Krogstad Festlig Aquavit 750ml
Sale!
15%
House Spirits Krogstad Festlig Aquavit 750ml
$78.98 
Product images are for illustrative purposes only and may differ from the actual product due to label and design changes. Please contact us first if you are looking for specific versions. Otherwise, we ship based on the product name.
House Spirits Krogstad Festlig Aquavit
House Spirits Krogstad Aquavit Is An Exceptionally Balanced Spirit Flavored With Star Anise And Caraway Seed. Based On The Traditional Scandinavian Recipe, Chilled Krogstad Festlig Aquavit Is A Perfect Accompaniment To Rich And Savory Foods. Krogstad's Bold, Clean Flavor Is Quickly Becoming A Favorite In Bartenders' Signature Cocktails Across The Nation.
Krogstad Festlig Aquavit is named after head distiller Christian Krogstad who was first introduced to Aquavit by his Norwegian grandparents. Infused caraway and star anise are the dominant spices. Krogstad Festlig won the Double Gold medal at the 2012 SF World Spirits Competition for Aquavit Cocktail Recipes.
House Spirits Krogstad Aquavit is a tribute to the Scandinavian drink based upon caraway and in this case includes star anise. They call it the "perfect accompaniment to rich and savory foods." Traditionally, aquavit is served ice-cold out of the freezer. Aquavit, a neutral spirit usually distilled from grain and flavored with botanicals, has been produced in Scandinavia for centuries. Much like gin, aquavit is defined in United States regulations by its primary botanical. While gin's star is juniper, with aquavit, it's caraway. To create unique expressions of the spirit, distillers often complement caraway with a myriad of spices and botanicals such as dill, cumin, coriander, juniper, fennel, anise, and citrus.
Producer : House Spirits
Country : United States
Region : Oregon
Style : Akvavit