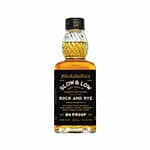 HochstadterS Slow & Low Rock And Rye Straight Rye Whiskey 750ml
HochstadterS Slow & Low Rock And Rye Straight Rye Whiskey 750ml
$75.00
Product images are for illustrative purposes only and may differ from the actual product due to label and design changes. Please contact us first if you are looking for specific versions. Otherwise, we ship based on the product name.
Hochstadter's Slow & Low is inspired by traditional Rock & Rye recipes, Robert Cooper crafted Hochstadter's Slow and Low Rock & Rye.
Cooper is a third-generation distiller " his grandfather, Maurice, founded Cooper Brewery in the early 20th century and his father, Sky, worked at Charles Jacquin et Cie, a distillery in Pennsylvania.
Hochstadter's Slow and Low Rock & Rye is made in Philadelphia " the birthplace of Rock & Rye " with a backbone of straight rye whiskey.
The whiskey is macerated with orange peels before being infused with a picayune amount of honey. In addition, Cooper adds a hint of horehound an herbaceous perennial plant often found in lozenges to his elixir.
Hochstadter's Slow & Low Rock and Rye comes from the same company that was behind St. Germain and Crème Yvette.
On the nose, R&R was resplendent with orange and honey. I found it odd that the rye whiskey actually took a backseat to the sweet fruit, but it was certainly pleasant.
At a respectable 84 proof, Rock and Rye was gentle in the mouth, with only a hint of tingle in the middle of the tongue. Flavor was a strong point in this expression of a bottled cocktail. Loads of bitter orange and honey, with the rye whiskey still taking the second string in performance.
The finish on Rock and Rye was nice and lingering, as you would expect a nice cocktail to provide. Set aside the expectations of a straight whiskey, and this flavored beverage is a lovely, easy drink.
They obviously know what people like St. Germain has been called the most influential cocktail ingredient and still is found on cocktail menus at all kinds of bars. Slow & Low was bottled beginning in 2013 and is one of several rock and ryes available.
Appearance:
Light straw and fairly translucent.
Nose: 
Sweet vanilla and candied orange peel with a spiced apple undertone and a bit of tootsie roll.
Palate: 
Surprisingly or not, it tastes just like the ingredients described on the bottle. Spice and vanilla are upfront, followed by a lingering honey note. Candied orange matches the nose and there is an underlying base of spice and wood. The honey sweetness is a bit cloying, but otherwise it is well balanced for a bottled cocktail style beverage.