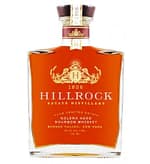 Hillrock Solera Aged Bourbon 750ml
Hillrock Solera Aged Bourbon 750ml
$194.98
Product images are for illustrative purposes only and may differ from the actual product due to label and design changes. Please contact us first if you are looking for specific versions. Otherwise, we ship based on the product name.
Hillrock Estate Distillery is a farm distillery with roots dating back to 1806, located in New York's Hudson Valley approximately two hours north of New York City. Hillrock is the first company to offer solera aged bourbon beginning in October 2012. Though other companies have followed suit with a handful of other solera aged bourbons currently available. Hillrock was founded by Jeffrey Baker and is collaborating with Master Distiller Dave Pickerell.
From Hillrock's website: "'Solera' – a stack of barrels where a small portion of whiskey is removed periodically and new whiskey is added. No barrel is ever fully emptied, and age and complexity gradually increase over time. Hillrock marries small barrel-aged Hillrock Estate Bourbon with mature seed bourbon before finishing in 20-year-old Oloroso Sherry casks to balance the flavors and add layers of complexity. The current average age of the Hillrock Solera Bourbon is over 6 years and the rye content is approximately 37%."
NOSE:
Upfront I notice dark fruit, a hint of rye spice, and something floral. This is accompanied by the slightest tickle of alcohol on the nostrils. Overall it's very light and sweet-smelling, making for a nice, yet ever-so-subtle nose.
Palate:
The palate is full-bodied, yet light and delicate at the same time. Ironically it seems boring on the surface, but take your time with it and it offers a good deal of depth and complexity. Its lack of burn allows me to roll it around in my mouth as long as I want to, coating my tongue and contemplating the flavors. The influence of the Oloroso Sherry casks is quite evident, with notes of sweet dark fruits taking the forefront. Most prominent are cherries, candied raisins, and a bit of something else sweet, dried apricots maybe.
Finish:
Crisp and clean, with a bit of rye spice popping at the onset. As it fades the taste of sweet cherries balances nicely with seasoned oak and plums. It's short to medium length, but what's present is pleasing.
Uniqueness:
The solera aging process is nothing new, though Hillrock is the first to apply it to the production of bourbon. You might wonder how they got around the strict requirements to label this bourbon, as bourbon has to be aged in new charred oak containers, among other requirements.