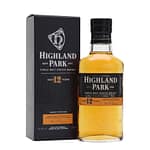 Highland Park Single Malt 12 Years
Highland Park Single Malt 12 Years
$123.00
Product images are for illustrative purposes only and may differ from the actual product due to label and design changes. Please contact us first if you are looking for specific versions. Otherwise, we ship based on the product name.
Highland Park Single Malt 12 years features a burnished gold, bright and clear color with a rich, sherry mature oak. A smoky aromatic oak top note and soft, round and long finish 43% alcohol smokiness, the peat, the heather-honey – plus it has gained a glorious richness and spiciness through its longer cask maturation Islands Single Malt Scotch.
Highland Park Single Malt is one of the few distilleries to carry on the tradition of floor malting, a labor-intensive process where barley is spread across a floor and regularly hand-turned for even germination before being kilned with Orkney peat, a famously heathery peat saturated by eons of salt spray. Only about 20% of the malt used to make Highland Park's whisky is floor-malted; the remainder is unpeated and sourced from other suppliers. Most expressions are aged primarily in sherry casks.
Highland Park 12-Year-Old remains one of the gold- standard malts for other distillery bottlings to aspire to. With a delicious sweetness and a warming, silky mouthfeel, this is a whisky that never lets you down. "The greatest all-rounder in the world of malt whisky".
Highland Park's spectacular 12-Year-Old expression had a full-on Viking make-over in 2017, dubbed Viking Soul. Stylish new livery and matching sub-name aside, the Orcadian single malt remains the same – delicious as ever!
Nose:
Fresh, clean, and very aromatic. Floral notes abound the senses with a light grassiness. Notes of creamy Manuka honey and a touch of juicy citrus with cream and a well-balanced sweetness.
Palate:
Rather full with a pleasant depth. Lurking somewhere in the substratum a grilled orange lies. Notes of granary toast and green tea with jasmine. A touch of sweetness.
Finish:
Quite long with peppery spice and wood shavings.