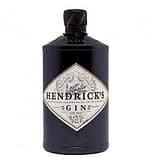 Hendricks Gin 750Ml
$92.98
Product images are for illustrative purposes only and may differ from the actual product due to label and design changes. Please contact us first if you are looking for specific versions. Otherwise, we ship based on the product name.
Hendricks Gin 750ml is made in small batches with a fully restored 19th-centrury Carter-Head Still, which ""bathes"" the ingredients in vapors instead of boiling, producing a smoother gin. A unique blend of botanicals, including Bulgarian Rose petal and cucumber.
Hendricks Gin 750ml has a fierce following, in part because of its quirky brand personality (see the Monty Python-esque website) and aggressive marketing among bartenders. But it lives up to the hype. Some might expect a more concentrated rosewater-cucumber profile, but it's relatively subtle, with just a hint of cucumber mingling with juniper in the aroma, and white pepper, citrus and floral notes on the lingering finish. This item is available for Gift Wrap. Hendrick's Gin is medium bodied, crisp and lean with a long, lingering finish that has an unexpected infusion of cucumber and rose petals. No other gin tastes like it because no other gin is made like it.
TASTE : Aromatic, Cucumber, Rose, Balanced
Hendrick's Wondrous Botanical Signature Consists Of Flowers, Roots, Fruits And Seeds From The World Over. They Function To Complement And Set The Stage For Our Delicious Duet Of Infusions: Rose Petal And Cucumber. Clear. Delicate aromas of cucumber, rose, honeyed citrus and floral juniper.
Hendrick's Is The Marriage Of Two Different Spirits From Two Rare And Unusual Stills: The Bennet Still And Carter-Head Still. By Combining The Two, We Are Able To Create An Extraordinarily Smooth Gin That Has Required Character And Balance Subtle Flavours.
-From The Producer