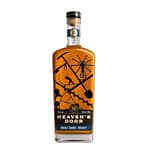 Heavens Door Double Barrel Bourbon Whiskey 100 Proof
Sale!
Heavens Door Double Barrel Bourbon Whiskey 100 Proof
-10%
Product images are for illustrative purposes only and may differ from the actual product due to label and design changes. Please contact us first if you are looking for specific versions. Otherwise, we ship based on the product name.
Heaven's Door Double Barrel Bourbon Whiskey Comprised of a unique blend of three different whiskeys. Our double barrel finishing process utilizes hand-toasted, new American oak barrels for a secondary aging worthy of another year's wait. Double Barrel's higher proof balances perfectly with the complexity of its flavor and notes of caramel, oak, citrus, and spice.
Classification: Whiskey Finished in New Toasted Oak Barrels
Company: Heaven's Door Spirits
Distillery: Sourced from an undisclosed distillery[ies]
Release Date: Ongoing
Proof: 100
Age: NAS
Mashbill: Undisclosed (Blend of three whiskeys)
Color: Bronze
Tasting Notes Of Heaven's Door Double Barrel
Nose
Rich aged oak immediately greets you. Taking a deep inhale reveals scents of light hints of baked cinnamon, vanilla, butterscotch, and peanuts lying in wait. The main focus though is the oakiness, which clearly dominates the nose and helps usher in a very nicely balanced opening to the sip.
Palate
Deep buttery brown sugar swirled with cinnamon jumps to the front. Behind it lies a layer of oak combined with a sweet vanilla, light cinnamon apple, and hints of cherries. The secondary barreling process is evident here as the sweeter flavors from the wood are pulled forward while still showcasing a heavy amount of rich oak. It's not overly complex, instead focusing on a robust mouthfeel that is perfectly balanced in its delivery of sweet and woody flavors. It's a combination that is extremely pleasing and hard to beat.
Finish
The finish focuses more on drier flavors compared to the sweeter ones found in the nose and palate, and opens with drier oak, leather, hints of peppercorn, and light vanilla. Drier leather and oak pull forward and linger, while flashes of peanuts dash in and out. It's a pleasing flavor profile is a nice way to end the sip.