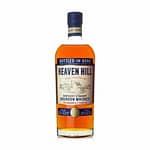 Heaven Hill 7 Year Old Bourbon Whiskey Bottled-In-Bond 750ml
Heaven Hill 7 Year Old Bourbon Whiskey Bottled-In-Bond 750ml
$225.00
Product images are for illustrative purposes only and may differ from the actual product due to label and design changes. Please contact us first if you are looking for specific versions. Otherwise, we ship based on the product name.
This Heaven Hill 7 Year Bourbon pays tribute to the earliest days of the Distillery's history when in 1939 it released Heaven Hill Bottled-in-Bond. The namesake brand quickly became the number-one-selling Bourbon whiskey in the state of Kentucky. Still today, the craftsmanship poured into this bottle by the same founding family meets the exacting standards first set forth in the Bottled-in-Bond act of 1897.
Classification: Straight Bourbon
Company: Heaven Hill
Distillery: Heaven Hill
Release Date: October 2019
Proof: 100
Age: 7 Years
Mashbill: 78% Corn, 12% Malted Barley, 10% Rye
Color: Medium Amber
Tasting Notes Of Heaven Hill 7 Year Whiskey
NOSE
Quintessential aromas of vanilla, caramel, and aged oak come forward. A trace of leather along with even fainter hints of tobacco and honey play in the background. It's a little light considering the proof, but well balanced and pleasant overall.
Palate
Seasoned oak and spice envelop the taste buds, bursting forth immediately. Savory tobacco and leather notes come next, balanced against graham cracker and butterscotch. It has a lightweight, and somewhat dry mouthfeel. Despite this, the intensity of flavors is just right, inviting you back for more.
Finish
Medium to long, cinnamon spice and caramel sweetness find themselves in perfect balance to start it off. Oak mingles in, along with cherries and vanilla sweetness. The dryness present in the palate tapers off, allowing the sweeter notes to echo into the final moments of the finish. Nice overall, and quintessentially bourbon-esque.