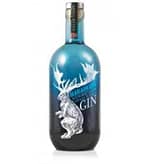 Harahorn Small Batch Gin
$84.98
Product images are for illustrative purposes only and may differ from the actual product due to label and design changes. Please contact us first if you are looking for specific versions. Otherwise, we ship based on the product name.
Harahorn Small Batch Gin is a taste of Norway, with a dash of folklore…  as far as the high quality of this spirit, Harahorn only produces 400 litres at a time to retain total control of quality. The distillery uses flavorful berries and herbs from the wilds of Norway, and creates a potent Gin at 46% proof. Perfect for both mixed drinks and cocktails. The color is clear; the nose has clean aromas with fine notes of juniper and citrus. The palate is fresh, clean and flavorful with notes of juniper, fruit and spices.
Micro batch, London Dry style gin. Clean aroma, fine notes of juniper and citrus. On the palate is clean flavors of juniper, fruit and spices. Perfect neat or for mixed drinks and cocktails. Harahorn Gin 0.5L 46% Country: Norway Volume: 0.5 l Alcohol: 46% Harahor Gin originated in Hemsedal in Norway and is named after a Norwegian mountain. From this plateau, under the northern lights, the beautiful junipers come used for this Norwegian gin. The inspiration comes from the same Norwegian mythical creatures as followed , "a rabbit with antlers", which also adorns the bottle of gin Harahorn and many many more others, but nobody has seen firsthand.
Harahorn Small Batch Gin is named after a mountain in Hemsedal, and inspired by a fabled horned hare never yet seen by human eyes. Contains juniper berries from Røros,  blueberries from Nordmarka, rhubarb and bladderwrack from Grimstad, angelica from Oppdal and wild marjoram .
SPIRITS TYPE : Gin
ABV : 46%