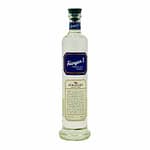 Hangar One Straight American Vodka 750ml
Sale!
Hangar One Straight American Vodka 750ml
-20%
Product images are for illustrative purposes only and may differ from the actual product due to label and design changes. Please contact us first if you are looking for specific versions. Otherwise, we ship based on the product name.
Some were harsh; all of them lacked depth. We knew we had to find a way to make a straight vodka our way – using the best ingredients. Hangar One Straight work with specialist growers to source fruit at the peak of ripeness. Fine grapes are blended with Midwestern grains to make a perfectly balanced straight vodka with a slightly fruity note.
Although overall neutral and mild, this artisanal vodka is distinguished by a faint fruitiness and a touch of sweetness on the clean, crisp finish.
Jorg Rupf and Lance Winters figured out how to make straight vodka taste good. First they pot distill a vodka from expensive viognier wine. Then they blend it into an excellent column still wheat vodka. Here's the magic: there's no harsh alcoholic smell or taste, just soft beautiful purity.
Hangar One Straight is a little strange. But we couldn't seem to find a "straight" vodka we truly liked; some were harsh; all of them lacked the depth of our flavored spirits. I realized this was going to be a challenge. I knew we had to find a way to make straight vodka our way – distilling it right from whole, just-picked fruit skin, stems, seeds, leaves and all. Enter the Viognier. This grape has low acid and amazing fruit and floral aromas. It takes the harsh ethanol bite right out of the spirit, and it gives our straight vodka a sweet, smooth, satisfying feel. We blend a Viognier eau de vie with spirit made from midwestern wheat to make a perfectly balanced, fruity, "straight" vodka.
Appearance:
Crystal clear, no sediment whatsoever. On swirling, it leaves a thin, clear coat on the inside of the glass.
First Impression:
Wheat/grain, but a slightly sweet smell to it; a grape cognac aroma, slightly alkaline (cocoa?). No smell of esters or oils that you find in other vodkas. The use of pot stills and the unusual mix of ingredients make a much more robust and interesting spirit than the usual vodka. Still, mild enough for the fear of flavor crowd but good enough to be enjoyed by someone looking for some flavor and body.
Taste:
Sweetish, thick,and slightly oily on the tongue, with a plump, round taste to it. A wonderful, round mouthfeel to it; almost creamy in texture. A damn near perfect blend of wheat and grape distilates that form a wonderful balance of tastes from both. A slight  warming of alcohol as it goes down the throat, more like a caress, not the burn like you get from a lot of other vodkas.