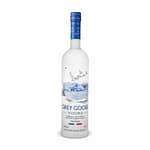 Grey Goose Vodka 1.75L Bottle
Sale!
Grey Goose Vodka 1.75L Bottle
-20%
Product images are for illustrative purposes only and may differ from the actual product due to label and design changes. Please contact us first if you are looking for specific versions. Otherwise, we ship based on the product name.
Grey Goose Vodka
Grey Goose Vodka is crafted in the legendary tradition of the Cognac region, under the watchful eye of the Maitre de Chai. Who uses a proprietary five step distillation process to transform fine French wheat and pure artesian spring water into the World's Best Tasting Vodka.
Who knows about vodka knows about Grey Goose. Does being a gluten-free vodka make it unique? No, but Grey Goose goes beyond just being gluten-free, it is the only one that uses Picardie wheat from a single source and water from the company's own well at Gensac-La-Paulle to make this gluten-free distillate. It is also not that because it is distilled more than once, a vodka is good. For this company if you have to distill more than once, it is time to look for better ingredients.
A distillate made with the best ingredients in France, soft winter wheat and pure spring water from Gensac. The Grey Goose Vodka has 40% vol. and stands out for its delicate and floral aromas. Its sweet and rounded taste and its bold and caramelized finish.
Don't doubt it anymore. You deserve a vodka that is truly made with the best of French ingredients. Cared for and cultivated with effort and mastery from. The wheat fields to its bottling and release to the market.
Color:
has a translucent colored
Nose:
a floral fragrance with great clarity and freshness.
palate:
Smooth, slightly sweet, with a hint of almonds. Long finish.