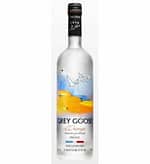 Grey Goose L'Orange Vodka
Grey Goose L'Orange Vodka
$100.98
Product images are for illustrative purposes only and may differ from the actual product due to label and design changes. Please contact us first if you are looking for specific versions. Otherwise, we ship based on the product name.
Grey Goose L'Orange Flavored Vodka is made from the essence of oranges harvested year round. As with the superior bread making wheat used to makeGrey Goose Vodka. Cellar Master François Thibault insists on only the finest oranges to produce the best possible orange vodka. Essential oils from the fresh fruit are mixed with the wheat spirit and distilled to achieve the signature vibrant citrus character of Grey Goose L'Orange Flavored Vodka.
Conjured from the natural essence of one kilogram of fresh oranges in each liter, this orange flavored vodka has a light, crisp flavor perfectly mirroring the zest of an orange.
The Maitre de Chai chose the essence of the prized Florida orange to create the gentle orange nuance that is the signature of Grey Goose L'Orange Flavored Vodka. It tastes refreshingly light and crisp and perfectly echoes the natural zest of the fruit.
The elegant and slightly peppery taste of Grey Goose is infused with plump and ripe mandarin orange flavor. Can be used as an ingredient in your favorite cocktail, or smooth enough to be enjoyed sipping.
Greay Goose L'Orange contain the natural essence of one kilogram of fresh oranges picked from Brazil and Florida. It has concentrated citrus oil extract that give a light and crisp flavour that perfectly mirrors the zest of an orange.
French vodka flavoured with the essence of the orange. This is made with Champagne limestone filtered water. In 2001 this was awarded gold at the Beverage Packaging Global Award. They were right to award it a gold, it has a nice bottle, with a picture of an orange, and a flock of geese.
Aroma:
Fresh With A Slight Sweetness And Delicate Floral Notes, Suggestive Of A Full Ripe Orange.
Palate:
Full Fresh With A Mouthfeel Evocative Of Juicy Orange Flesh.
Finish:
Clean And Refreshing Taste.