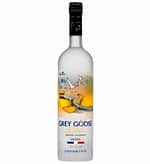 Grey Goose Le Citron Vodka
Grey Goose Le Citron Vodka
$100.98
Product images are for illustrative purposes only and may differ from the actual product due to label and design changes. Please contact us first if you are looking for specific versions. Otherwise, we ship based on the product name.
In crafting Grey Goose Le Citron Flavored Vodka, Cellar Master François Thibault began with the finest lemons, including those grown in the world-renowned Menton region of France. Menton lemons are larger and thicker skinned with a milder and less acidic flavor than their western counterparts, resulting in a superior lemon-flavored vodka.
The thicker peels yield higher levels of essential oil, making Menton lemons the favorite of respected French chefs. The lemons are concentrated into a complex citrus oil extract to preserve their bright flavors, then expertly blended with vodka of unparalleled quality, Grey Goose.
The Maitre de Chai masterfully crafts Grey Goose Le Citron Flavored Vodka using the subtle, tart flavor that can only be drawn from the Menton Lemon. Each year, the French provincial town of Menton blooms with color in celebration of the lemon harvest. Fittingly, the taste of Grey Goose Le Citron is bright and elegant.
The elegant and slightly peppery taste of Grey Goose combined this distillate of fresh lemons and then distilled. Refreshing and zesty. This is great in tonic water.
Beautiful aromas of ripe, fresh Menton lemons with a balance of citrus flower and lemon tree encapsulates the taste of lemon peel and absolute freshness upon the palate.
Appearance:
Crystal clear.
Aroma:
Superbly clean, zesty lemon and lemon meringue pie with subtle eucalyptus.
Taste:
Clean, fresh and zippy. Zesty lemon with a slight bitter note, as one might expect from fresh lemons.
Aftertaste:
Clean, fresh lemon with slightly bitter zesty lemony bite. Overall: Pungent aroma and assertive palate with full-on zesty lemon.