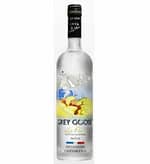 Grey Goose La Poire Vodka
Grey Goose La Poire Vodka
$84.98
Product images are for illustrative purposes only and may differ from the actual product due to label and design changes. Please contact us first if you are looking for specific versions. Otherwise, we ship based on the product name.
Like the soft winter wheat used to make Grey Goose Vodka, the anjou pear is cultivated in. France and is an essential ingredient in classic French pastries and desserts like the tarte aux poires. resulting in a superior pear vodka. Grey Goose La Poire benefits from the Grey Goose production process, designed and implemented. Cellar Master François Thibault, focuses on bringing out the naturally superior characteristics of ripe fruits. A rich medley of fresh pears produces the complex, yet pure flavor of Grey Goose La Poire.
Reflecting the taste and freshness of an anjou pear a classic flavor of French cuisine this pear flavored vodka comes alive with a crisp, smooth taste.
The elegant and slightly peppery taste of Grey Goose is combined with essence of Anjou pears. The taste is still smooth, but the spirit also has the aroma of sweet, ripe pears.
To create Grey Goose La Poire Flavored Vodka, the Maitre de Chai selected the Anjou Pear. Cultivated in France's Loire River Valley, the Anjou is world renowned for its creamy texture, subtle sweetness and mellow flavor. This coveted fruit is used to create a flavored vodka that is alive with the aroma of fresh pears and a light, smooth taste.
Grey Goose La Poire features a trio of natural flavourings blended specifically to reflect the taste and freshness of an Anjou Pear. This flavoured vodka is alive with fresh pears and still has the smooth heat of grey goose down the throat.
Aroma:
Vibrant, Distinctive. Purely Pear, Plus A Hint Of Nuttiness And Notes Of Honeysuckle.
Palate:
Crsip, Round And Creamy. Some Notes Of Smooth, Soft Nuts.
Finish:
Long, Wamring And Pleasing Without Harshness.