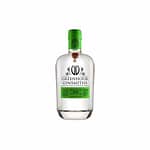 Greenhook American Dry Gin 750 Ml
Sale!
Greenhook American Dry Gin 750 Ml
-10%
Product images are for illustrative purposes only and may differ from the actual product due to label and design changes. Please contact us first if you are looking for specific versions. Otherwise, we ship based on the product name.
Greenhook American Dry Gin made in Greenpoint, Brooklyn has a delicate, fresh, fruity nose with hints of juniper, yellow citrus, and elderflower. On the palate the juniper leads and is followed quickly by citrus, ginger, sweet cinnamon, and chamomile. Try it in a Martini with a twist. This gin is made from a wheat base, with major botanicals such as chamomile, blue ginger, Ceylon cinnamon, elderflower, and juniper.
Awarded Silver at the 2020 SFWSC. The uniqueness of their distillation process creates a bright, vibrant, and nuanced gin that is a perfect balance between their herbal, floral and citrus components: elderflower, cinnamon and chamomile. It's a mix unlike any other.
SPIRITS TYPE : Gin
Tasting Notes Of Greenhook American Dry Gin
The nose smells sweet and inviting, a warm springy note of juniper and a bit of the cinnamon and chamomile. The overall character on the nose is rather classic in nature. The taste is where the gin truly reveals itself as squarely within the contemporary camp. The initial taste is a potent burst of Elderflower, nicely balanced with the some warm earthy notes, coriander and orris root predominantly. The middle is that bright note of cinnamon that was on the nose, hints of ginger?, but it all finishes with a warm and spicy note of juniper and that's where the gin reveals its 94 proof heat.