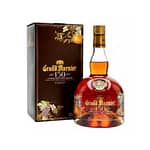 Grand Marnier Cent Cinquantenaire 150 France 750Ml
Grand Marnier Cent Cinquantenaire 150 France 750Ml
$1,298.00
Product images are for illustrative purposes only and may differ from the actual product due to label and design changes. Please contact us first if you are looking for specific versions. Otherwise, we ship based on the product name.
Grand Marnier Cent Cinquantenaire 150 France 750Ml
An exceptional Grand Marnier Cent created in 1977 by the Chairman of the company, Jacques Marnier-Lapostolle, to celebrate the company's 150th anniversary. It was for many years reserved exclusively for the Marnier-Lapostolle family and their close friends. It is now available in very limited quantities.
Grand Marnier Cent Cinquantenaire is based on rare Cognac reserves primarily from Grande Champagne. Equivalent to 'Extra' Cognacs and well above the age required for XO, the Cognacs used to make this liqueur have an average age of between 25 and 30 years and some are as much as 50 years old.
Grand Marnier Cent Cinquantenaire undergoes an extended final maturation period in large oak casks for at least three years to ensure harmonious structure and rich complexity. The finished liqueur comprises 82% Cognac and contains 237 grams of sugar per liter.
The richly decorated, hand-painted, art deco bottle depicts orange blossom on one side and a grape laden vine on the other, both images reflecting the liqueur's ingredients. The bottle has a gold wax seal and is presented in a gift box. The copy is a copy from an old limited bottle from the 1930s.
Beautiful, reddish-gold core with light amber edges. Rich nose of aged cognac with background notes of cocoa, cinnamon, and other spices. Macerated bitter orange flavors enriched by notes of coffee, honey, bitter almonds, and spices. The finish is long and complex. Pairing suggestion: Desserts such as chocolate sponge cake and tiramisu. Hard cheeses such as aged Gouda and Comté, or Parmigiano.
Product Details
Origin: France
Proof: 80 (40% ABV)
Distillery: Marnier Lapostolle Distillery
Size: 750ML
Appearance:
Clear, topaz color with gold and amber tones.
Aroma:
Wonderfully refined with cinnamon and mandarin, along with the leather aromas characteristic of an old Cognac.
Taste:
Velvety, honeyed, and complex with mature Cognac figs, dried prunes, and maple syrup immediately apparent. Wood and vanilla accents with bitter marmalade and orange zest.
Aftertaste:
More subtle hints of lemon, cinnamon, and bitter almond add depth and interest.
Available on backorder