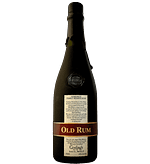 Goslings Family Reserve Old Rum 750ml
Goslings Family Reserve Old Rum 750ml
$144.98
Product images are for illustrative purposes only and may differ from the actual product due to label and design changes. Please contact us first if you are looking for specific versions. Otherwise, we ship based on the product name.
Gosling's Family Reserve Old rum is crafted in Bermuda from the same blend as Gosling Black Seal but is aged longer in dark barrels. Each bottle is hand-labeled and numbered.
An exceptional expression from Gosling's range. Family Reserve was once produced exclusively for members of the Gosling family, but they have since decided to share this fantastic top quality rum from Bermuda. Each bottle is hand-labeled, dipped in wax, packed into boxes, stamped, put in the post box, you'll even hand pour it into your glass. This corking rum was given a Double Gold Medal at the 2005 San Francisco World Spirit Competition.
A truly superb dark golden rum made in Bermuda by Goslings, who are of course much more famous for their Black Seal rum of Dark 'N' Stormy fame. To overlook this complex sipper would be a mistake, however – we think it's a hidden gem.
Deep reddish mahogany color. Complex confectionary aromas and flavors of cherry cola, root beer float, banana cake, buttery kettle corn, mint, and bourbon candy with a supple, fruity-yet-dry medium-to-full body and a long, spicy finish. Distinctively fruity and flavorful.
Appropriately called gosling's family reserve old rum, it's crafted from the same incomparable Bermuda blend as our renowned black seal rum. But, we age it in our dark barrels even longer, until it acquires an extra luscious, nuanced complexity much like a rare scotch or cognac. Consider it the ultimate sipping rum.
Nose:
Rich, creamy aromas. Hints of calves leather, dark chocolate, candied orange, and spice.
Palate:
Thick notes of orange marmalade and molasses, bitter dark chocolate, cooked apples, and black pepper. A little cedar.
Finish:
Long, oaky finish.