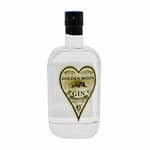 Sale!
Golden Moon Gin 750ml
-10%
Product images are for illustrative purposes only and may differ from the actual product due to label and design changes. Please contact us first if you are looking for specific versions. Otherwise, we ship based on the product name.
Golden Moon Gin is distilled using the finest herbs, spices and botanicals available, including wild-crafted mint and juniper berries, and locally grown herbs and botanicals from the Front Range of the Colorado Rocky Mountains near Golden Colorado. Compared to other artisan gins, It is unique and distinctive. It has a highly floral aroma and a gentle refined taste. It is smooth enough to drink neat and bold enough to mix well with other spirits, making wonderful cocktails.
It's still distilled in Golden, Colorado. Gould still sources juniper locally (one such juniper tree is just outside the distillery— you might even call it hyper-local). It's distilled from a base spirit of grain and was inspired by pre-prohibition era gin recipes.
Tasting Notes Of  Golden Moon Gin
Nose :
The nose is its signature, it begins with a bright brush of straight French lavender. There's a menthol coolness with sweet mint and a skosh of herbaceous, green juniper. It's very contemporary in its approach.
Palate :
The palate is round and freshly herbal. The juniper is bright and herbaceous with a hint of Douglas Fir. Mint especially early on lends a brisk coolness to the palate. Lavender comes on strong and is it's heart.
Finish :
The flavor evolves and becomes a bit greener as rosemary and tarragon notes develop in the back and sides of the palate. Ultimately, the finish retains a bit of that tarragon notes with dried lavender fading.