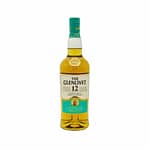 Glenlivet 12 Year Single Malt Scotch Whisky
Sale!
5%
Glenlivet 12 Year Single Malt Scotch Whisky
$95.00 
Product images are for illustrative purposes only and may differ from the actual product due to label and design changes. Please contact us first if you are looking for specific versions. Otherwise, we ship based on the product name.
Excellent 12 year old single malt from the Glenlivet Distillery in Speyside, which enjoys its maturation in both European and American oak casks. It's an immensely popular expression that disappeared from shelves in 2015 but has since returned. A great example of the character of Glenlivet's whisky. Boasting a bounty of orchard fruit, fragrant florals, and honeyed malt notes carried on a creamy mouth feel.
This whisky has been called a lot of things in its time: smooth, fruity, complex, sophisticated, entertaining, classic. The Original Malt Whisky Almanac says: "A first-class malt. One of the most popular malts in the world – deservedly so." Representing The Glenlivet's signature style, this classic malt is first matured in traditional oak, before spending time in American oak casks which impart notes of vanilla and gives the whisky its distinctive smoothness.
The mineral-rich water that comes from Josie's Well helps form the flavors during mashing and fermentation, whilst the specific height and width of the copper stills add a delicate yet complex character. Keep a bottle on hand for every occasion.
One of the most famous malts in the world. Glenlivet 12 Year Single malt has a soft smooth balance of sweet summer fruits and the floral notes of spring flowers.
Off-dry malted barley and light toffee smell greet the olfactory sense along with flowery fragrances of heather, rose petal, and pine. The entry features sweet grain and candied apricot tastes; the midpalate is mellow, malty, fruity (white raisins, apricots), and sophisticated. Ends on a buttery note. Remains the Speyside benchmark.
Nose:
Apricot, pineapple, greengages, citrus blossom, and a toasted teacake.
Palate:
Buttery and vanilla-rich, though still packing all the bright fruit notes from the nose.
Finish:
A soft crackle of oaky spice and malt, plus a hint of red apple juiciness.