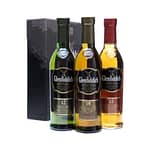 Glenfiddich Trio Pack Scotch Whisky 3 X 200 Ml 12 Year, 15 Year, 18 Year
Sale!
Glenfiddich Trio Pack Scotch Whisky 3 X 200 Ml 12 Year, 15 Year, 18 Year
-17%
Product images are for illustrative purposes only and may differ from the actual product due to label and design changes. Please contact us first if you are looking for specific versions. Otherwise, we ship based on the product name.
Glenfiddich Trio Pack Scotch Whisky
Glenfiddich Trio Gift pack contains three 200ml bottles of Glenfiddich 12 year, 15 years, and 18 year old scotch whiskies. Go on a journey of the senses by tasting the different ages and finishes of these unique whisky products from Glenfiddich. Excellent for those looking to sample different single malts or as a graduation, retirement, or birthday gift set for family, friends, and co-workers. Sample a range of single malts from one of the world's most awarded single malt Scotch whisky distilleries.
Every Scotch Whiskey lover enjoys going on a journey of the senses – to truly challenge themselves with different ages and finishes of the great distilleries of Scotland. The Mini Gift Pack includes a perfect 50ml miniature of 12, 15, and 18-Year-Old Single Malt Scotch.
Glenfiddich Trio Pack Scotch is one of three William Grant-owned whisky distilleries that sit in relatively close proximity to each other to the north of Dufftown, the spiritual heart of Speyside. Founded in 1886, by William Grant Balvenie fame, the Glenfiddich distillery is currently one of but three distilleries to bottle on site, and houses still with a total annual capacity of 13 million liters. Furthermore, Glenfiddich matures its single malt whisky in its onsite warehouses, which can house up to 800,000 casks. Malt is bought in, a proportion of this is malted at the neighboring Balvenie distillery.
TASTING NOTES:
12 year old:
For lovers of everyday luxury. Fresh fruit, soft oak, and butterscotch. Creamy with a long, smooth, and mellow finish, our 12 Year Old is the perfect example of Glenfiddich's unique Speyside style and is widely proclaimed the best dram in the valley.
15 year old:
For lovers of Spanish flavor. Marzipan, sherry, and ginger. Our 15 Year Old expression is created using a technique pioneered by our Malt Master and its warm, spicy flavors are transformed with the alchemy of the Solera Vat.
18 year old:
An exceptionally smooth Single Malt Scotch combining a touch of sweetness from Spanish Sherry wood, with the oakiness drawn from traditional American casks. Remarkably rich aroma delivers luxurious apple and spice notes on the mellow, smoky palate.