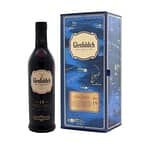 Glenfiddich Age Of Discovery 19 Year Single Malt Scotch Whisky 750ml
Sale!
20%
Glenfiddich Age Of Discovery 19 Year Single Malt Scotch Whisky 750ml
$425.00 
-6%
Product images are for illustrative purposes only and may differ from the actual product due to label and design changes. Please contact us first if you are looking for specific versions. Otherwise, we ship based on the product name.
The Glenfiddich Age of Discovery range is released just to the travel retail market until 2012 when the 19-year-Old Madeira Cask was released to the UK retail market to great excitement and applause. However this meant that Glenfiddich needed a new Age of Discovery bottling to replace the excellent Madeira cask, so here we have it – the Bourbon cask a fantastic follow-up that delivers as strongly as its older brother.
Glenfiddich Age of Discovery Bourbon Cask is the 2nd release in the limited edition series from the Speyside distillery. With the flavors of caramel and vanilla and a finish of mouth-watering apple tart and warm spice, it's one that will warm your heart.
The Great American Rivers once transported fine oak casks filled with American bourbon towards New Orleans. Bourbon casks could only be used once, their aromas and flavors released quickly, without being exhausted by long maturation. Excellent for aging single malt Scotch.
Our second release in the Age of Discovery collection and a first for us, Bourbon Cask Reserve is inspired by that history. It is our only expression exclusively matured in American bourbon casks, for 19 years. Creating a refined balance of spicy sweetness and rich dried fruit flavors.
Nose:
Toffee and vanilla play out first followed by a fruity cocktail of cox apples and spiced orange.
Palate:
Caramel and vanilla give way to a leathery quality, with water a spiciness arrives with nutmeg and cardamom notes.
Finish:
Majestically long with apple tart and warm spicy flavors.
Overall:
A great follow-up to the Madeira cask, equally complex and delicious without replicating what has gone before – top-notch!