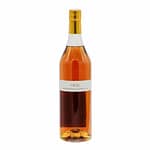 Germain-Robin 30 Year Old Gr 30 Craft-Method Brandy 750 ml
Germain-Robin 30 Year Old Gr 30 Craft-Method Brandy 750 ml
$1,003.00
Product images are for illustrative purposes only and may differ from the actual product due to label and design changes. Please contact us first if you are looking for specific versions. Otherwise, we ship based on the product name.
Maison Surrenne Cognacs, the fabulous Germain-Robin "Alambic" brandies, and piscos from PiscoLOGIA are based on grapes. They're all distilled on a pot still like the one in the photograph, an alembic character.
Germain-Robin brandies are hand-distilled using high-quality varietal wine grapes from Northern California, where the rich loam and intense summer heat make for brandies with exceptional depth and finish.
The Cognac region is cool and rainy, so its grapes tend not to make great table wine; soil characteristics have a great deal to do with cognac quality. For that reason, Maison Surrenne does the very little blending of their cognacs, preserving the rich variation between the regional soils.
PiscoLOGIA is the best of several little-known treasures from Peru. Pisco is a grape brandy tightly regulated to enforce ancestral methods.
750 ml, 42% ABV Brandies from 30 years ago. Unfiltered. This is one of the original brandies distilled by Germain-Robin.
POT STILL BRANDIES distilled by hand, using craft methods on a small antique cognac still. Germain-Robin was twice named Best Spirit by ROBB REPORT, ahead of The Macallan 18 and Richard Hennessy $1500 cognac.
Hubert Germain-Robin, the first distiller to use wines from world-class grapes, created one of the world's great spirits. Hubert took an antique still from an abandoned distillery near Cognac and brought it to Ansley Coale's Mendocino County ranch.
Hubert distilled using ancient craft methods passed for centuries from master to apprentice.  But he broke with tradition by distilling wines made from premium wine grapes. Cognacs derive most of their flavor from their soils and the grapes of the region make insipid wine.
Hubert discovered that the rich, complex, and deeply-fruited grapes used to make Northern California's renowned table wines would produce correspondingly rich, complex, and deeply-fruited brandies.