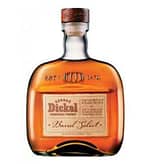 George Dickel Barrel Select Tennessee Whiskey 750ml
Sale!
George Dickel Barrel Select Tennessee Whiskey 750ml
-15%
Product images are for illustrative purposes only and may differ from the actual product due to label and design changes. Please contact us first if you are looking for specific versions. Otherwise, we ship based on the product name.
George Dickel Barrel Select Tennessee Whiskey – 86 Proof. Whisky Advocate, 92 Points – The Star Of The Portfolio. A True Sipping Whisky With Elegance And Grace. Perhaps The Best Tennessee Whisky On The Market. Honey-Soaked Corn Bread, Rhum Agricole, Ripe Nectarine, And Glazed Citrus. Hint Of Mint, Green Tea, And Cinnamon. Very Polished.
The George Dickel Barrel Select is pretty tasty stuff and with each batch being made from just 10 hand-selected barrels you're going to get a bit of variety in your bottle from batch to batch. Not nearly as much as you get with something like a Four Roses Single Barrel, but with batches blended this small there's a lot of room for variance.
EYE:
Dark caramel with yellow hints
NOSE:
A little weak, but round and sweet it starts off with caramel, vanilla, toffee, and corn. Sifting up through the corn husks in this glass are notes of sweet taffy, cherries, butterscotch, a bit of oak, and a twist of citrus. Hanging around in the background is a bit of astringency that pops up from time to time, but not a consistent factor.
TASTE:
Caramel starts us out but the corn comes rolling in close behind it. Amidst the rolling waves of caramel and corn are notes of vanilla, oak, clover, and rye. There is strange fennel like spice milling about in the background playing tag with a hint of mint. Pinning the whole thing together is a sweet char that's a bit like a burned marshmallow.
FEEL:
Soft and creamy there's a refined aspect to it.
FINISH:
Long and satisfying it starts out with some mighty notes of caramel, vanilla, and cinnamon which fade to corn and oak