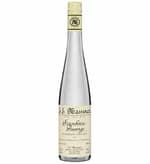 Ge Massenez Eau De Vie Framboise Sauvage 750ml
Sale!
10%
Ge Massenez Eau De Vie Framboise Sauvage 750ml
$124.98 
Product images are for illustrative purposes only and may differ from the actual product due to label and design changes. Please contact us first if you are looking for specific versions. Otherwise, we ship based on the product name.
Ge Massenez Eau De Vie Framboise Sauvage
By definition, an eau-de-vie ("water of life") is a spirit that is distilled from the fermented mash of fruit. GE Massenez uses the only choice, ripe, hand-picked fruit. Made from wild raspberries by means of a proprietary recipe, this was introduced by g. E. Massenez back in the 1930s.
Part of GE Massenez VRP range, an abbreviation of "Vieille Réserve Personnelle Sélectionnée" (personally selected), this wild raspberry eau-de-vie was developed by Eugene Massenez in 1913.
This Raspberry Eau-de-Vie is remarkable for its delicacy, refinement, and balance. A subtle emotion that mirrors the fragility of Raspberry.
In France, they drink Massenez very cold straight up; or over ice in a liqueur glass. It also mixes well with tonic, soda, and vermouth for the ultimate martini.
Appearance:
Crystal clear.
Aroma:
Subtle raspberry jam and fresh raspberry with faint linseed oiled soft leather.
Taste:
Raspberry jam, fresh raspberry, and some blueberry notes with mild white pepper spirit spice. Very clean.
Aftertaste:
Long finish. Raspberry jam and blueberry skin with light black pepper spice.
Overall:
A clean, 'wild raspberry' eau-de-vie with good flavors from the fruit with faint blueberry skin notes.