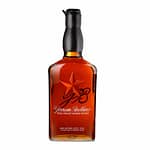 Garrison Brothers Vintage 2018 Texas Straight Bourbon Whiskey 750ml
Garrison Brothers Vintage 2018 Texas Straight Bourbon Whiskey 750ml
$185.00
Product images are for illustrative purposes only and may differ from the actual product due to label and design changes. Please contact us first if you are looking for specific versions. Otherwise, we ship based on the product name.
Garrison Brothers Vintage Whiskey is the first legal whiskey distillery in Texas. Rich peanut brittle and burnt orange sunrise color. Fragrant fresh cut flowers and grass, rose petals and gardenias on the nose. Sweet rock candy taste: caramel apples, peanut butter and roasted pumpkin seeds. A lasting finish. Polished and refined. Roasted caramel, orange zest, cinnamon, sweet tea and tobacco. The most mature Garrison bourbon yet at a little over three years of age.
One of the things which is particularly interesting about this release is seeing how the Texas heat played a significant role in keeping the consistency of the cask strength from time of initial barreling until it was time to pull it out. In a climate where reportedly as much as 40% of the liquid can be lost to the so-called angel's share, the white dog which initially entered the barrels in 2013 was, on average, at 114 proof. Four years later, it is said the average cask strength was 115.7 proof.
Tasting Notes Of Garrison Brothers Vintage Whiskey
Nose:
Toasty oak and maple syrup with corn and a touch of star anise.
Palate:
Nicely balanced with sweet honeyed notes as well as some brooding clove beneath the surface.
Finish:
Fruity rye spice and a light sprinkling of cocoa.
Overall:
 Straight single barrel bourbon from the Lone Star state.