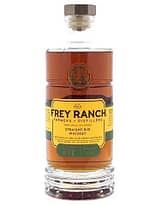 Frey Ranch Straight Rye Whiskey 750ml
Sale!
5%
Frey Ranch Straight Rye Whiskey 750ml
$193.00 
Product images are for illustrative purposes only and may differ from the actual product due to label and design changes. Please contact us first if you are looking for specific versions. Otherwise, we ship based on the product name.
Frey Ranch Straight Rye Whiskey
Introducing Frey Ranch Bottled-in-Bond Straight Rye Whiskey. Made with sustainably grown winter rye raised on the Frey Ranch, this 100% rye whiskey, aged 5 years, is smooth enough to sip yet spicy enough to shine in a cocktail.
At Frey Ranch, five generations of know-how goes into every barrel of our Straight Rye Whiskey. on the farm, our slow-grown Winter Rye isn't only an heirloom, but a point of pride, specifically raised for a new generation of Rye whiskey lovers.
Nestled in the heart of the Lake Tahoe Watershed just outside of Fallon, Nevada since 1854 is Frey Ranch. There are less than 3,000 farms in the Silver State as water rights make agriculture a less lucrative business. Farming coincides with whiskey, and just as there is an art to distilling there is an art to farming. Fifth-generation farmer and CEO Colby Frey saw an opportunity to expand his farming expertise into distillation and considers himself a "whiskey farmer.
While wine production began in 2001, distilling hard spirits began in 2006. Up until 2010 Nevada hadn't fully enacted laws regulating small distilleries, so that gave Frey plenty of time to master his whiskey recipe. Every part of the whiskey making process is done on the 2500 acre ranch; the crops are sustainably grown, malted, distilled, aged, and bottled. Frey Ranch Estate Distillery officially opened in 2014.
Testing Notes:
Frey Ranch's straight rye deftly balances sweetness and spice, producing an assertive whiskey that announces itself with a pleasant bite and notes of vanilla, molasses, and dark tobacco. Its lasting finish is warming with nutmeg and a hint of smoke. It's a richly flavorful rye, and a unique bottle to acquire for fans of the category.