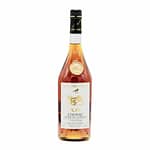 Francois Peyrot Xo Cognac Grand Fine Champagne 1Er Cru De Cognac 750 ml
Sale!
Francois Peyrot Xo Cognac Grand Fine Champagne 1Er Cru De Cognac 750 ml
-10%
Product images are for illustrative purposes only and may differ from the actual product due to label and design changes. Please contact us first if you are looking for specific versions. Otherwise, we ship based on the product name.
This Francois Peyrot Cognac formerly had an age statement of 25 years. They say it's the same cognac, but they had to conform to the French labeling laws.
The Cognacs of Francois Peyrot are among my favorites! This Estate has all of 60 acres of Vineyards planted in a 1er Cru Vineyard in the Grande Champagne region. They produce a very concentrated style of Cognac, and all of the fruit carries the Grande Champagne, 1er Cru label, with nothing more than water added to the final bottling.
This is a fantastic bargain for a Cognac of this age and quality!
The François Peyrot XO Cognac is a winning combination. Firstly, you're getting a truly eco-friendly Cognac that has been produced with absolutely no chemical involvement whatsoever – and that includes the preparation of the land, the vines, and everything else that goes into producing this fine Cognac.
Of course, you're also getting a wonderfully aged tipple – an XO Cognac, or "Extra Old" that truly deserves its place in any connoisseur's cabinet. Aged for approximately 25 years, it is a pure Grande Champagne blend.
What's more, it is produced only from Eaux-de-vie grown in the house's own premier cru vineyard. It may also be classified as a '25-Year-Old X.O'. The Peyrot XO offers exceptional value for money for such a quality of Cognac that has been aged for a quarter of a century.
Francois Peyrot is one of the most prestigious, yet unknown producers of Cognac. Unlike many others, this true boutique estate produces all their Cognac from an organic, single unblended vineyard in the "Grande Fine Champagne appellation, the highest quality area within Cognac.
Eye:
Gold amber.
Palate:
Long and elegant. An explosion of subtle flavors such as light tobacco, coffee and cocoa, and some light spices. Then, releases a rich and harmonious finale. Amazing flexibility to the palate.
Nose:
A floral symphony.