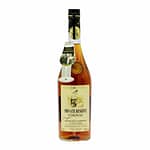 Francois Peyrot Private Reserve Cognac 750ml
Francois Peyrot Private Reserve Cognac 750ml
$161.00
Product images are for illustrative purposes only and may differ from the actual product due to label and design changes. Please contact us first if you are looking for specific versions. Otherwise, we ship based on the product name.
A Francois Peyrot Private Reserve Cognac at a fantastic price. Peyrot is a small, family-owned grower-producer that makes a richer, sweeter style of brandy. The Private Reserve is the most restrained showing round, fruit-forward expressiveness, but a leaner, less-opulent finish. My personal favorite of the bunch.
This Cognac is from a family producer that makes a very authentic 1er Cru Cognac. This brandy is a very concentrated and flavorful Cognac, with rich wood and vanilla notes.
This Francois Peyrot Private Reserve Cognac oozes style and grace, from the understated, artisan packaging to the precious Premier Cru nectar within. Francois Peyrot Heritage is a very old Cognac with a deep-reaching history. It possesses all of the desirable qualities of a well-aged Cognac; rancio, mellow tones, and elegant body. It is a personal expression of this Cognac producer, and its Hors d'Age status indicates its ability to reflect a historic moment in each part of its carefully constructed blend, as they are typically aged between 30 and 50 years. It is bottled at 43% ABV.
It is assembled with a series of Eaux-de-vie from the Grande Champagne cru, also known as the Premier Cru. Its name denotes its fine reputation. Thanks to millions of years of fossilization and soil rich in limestone and chalk, it makes for wonderful Eaux-de-vie such as that of the Peyrot Heritage Tres Vieille Cognac. The Grande Champagne cru is positioned optimally so as to absorb sunlight and provide excellent drainage for the grapes.
Eye:
A pronounced amber gold.
Nose:
The elegance of vanilla and fruit aromas.
Palate:
A fantastic rancio, with noble Eaux-de-vie that are velvety and mellow.