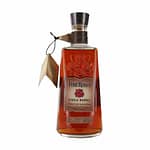 Four Roses 100 Proof Single Barrel Bourbon 750ml
Sale!
5%
Four Roses 100 Proof Single Barrel Bourbon 750ml
$115.00 
Product images are for illustrative purposes only and may differ from the actual product due to label and design changes. Please contact us first if you are looking for specific versions. Otherwise, we ship based on the product name.
Four Roses 100 Proof Single Barrel Bourbon
Four Roses 100 Proof Single Barrel Bourbon offers a flavor profile of delicate fruit with notes of pear and apricot amidst a creamy, spicy backbone, "a taste you'll want to savor again and again. Complex, full bodied and surprisingly smooth with a delicate long finish that's unbelievably mellow. Drink straight up or on the rocks." 100 proof. 50% alcohol/volume.
An outstanding single barrel bourbon from Four Roses. Beautifully balanced and smooth as silk, this is sweet, rich and potent with very appealing menthol notes, precious woods and delicious.
Classification: Straight Bourbon
Company: Kirin Brewery Company
Distillery: Four Roses
Released: Ongoing
Proof: 100
Age: NAS
Mashbill: 60% Corn, 35% Rye, 5% Malted Barley
Color:  Amber
Tasting Notes Of  Four Roses 100 Proof
Nose:
A balanced, rich, fruity nose. Notes of spices and chocolate. Toffee and vanilla. I'm greeted with an incredibly delicate and light nose. A bouquet of soft scents consisting of cork, dried raisins, vanilla, and fresh picked flowers . Also a very small amount of alcohol is detected upon first whiff. It's a nice but incredibly subtle nose.
Palate:
Tart stone fruits, prunes, spices, morello cherries, cocoa and vanilla. Wow, the palate is not what I expected after such a subtle nose. The most apt description is "Flavor Burst." Upfront I'm greeted with a heavy dose of rye spice immediately followed by honey, peaches, and subtle hints of brown sugar and light oak. The palate isn't deep as much as immediate, since you're bombarded with all of the flavors at once. It coats your tongue ensuring you get a healthy dose of flavor with each sip
Finish:
 Oak, chocolate, butterscotch. his bourbon delivers a long, lingering finish, which has the exact opposite spice effect of the palate. With the palate, you're greeted with spice upfront, quickly followed by a blast of flavors. With the finish, you're initially greeted with very little spice, however that changes as my mouth is slowly filled with a delicious spicy heat over a minute or two. This spicy heat then takes another minute to slowly dissipate from my taste buds.