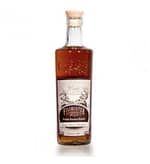 Filibuster Dual Cask Bourbon 750ml
Sale!
Filibuster Dual Cask Bourbon 750ml
-20%
Product images are for illustrative purposes only and may differ from the actual product due to label and design changes. Please contact us first if you are looking for specific versions. Otherwise, we ship based on the product name.
Filibuster Distillery was founded in 2013 in Washington D.C. with the idea of offering discerning spirits consumers a creative alternative to larger production brands. Taking inspiration from Scotland's varied cooperage traditions in regards to whiskey. Filibuster attempts a differentiated approach to the aging process for their bourbon and rye. Specifically with its "Dual Cask" series, which includes bourbon, rye, and gin. The American tradition of aging in new charred oak barrels is upheld but then followed by second aging in French wine oak barrels.
The wine barrels are intended to impart specific, unique flavor notes to the whiskey as it ages without inorganically accelerating the process with variation expected across vintages. This variability may also be a primary reason for some disparities across reviews of the whiskeys over the last several years. Though it is worth noting both the Dual Cask Bourbon and Dual Cask Rye have been well-received by Wine Enthusiast in 2013. The Dual Cask Rye also was awarded a silver medal at the 2014 San Francisco World Spirits Competition.
Filibuster Distillery spirits are now distributed in more than 20 states. Presumably, to emphasize the small-batch approach, Filibuster Distillery includes on each bottle label the batch and total bottle numbers. For this review, I tried the Filibuster Dual Cask Straight Bourbon Whiskey and the Filibuster Dual Cask Rye Whiskey
Appearance:
Rich amber
Nose:
Delicate but sweet aromas of brandied cherries and honeyed apricots are balanced by just a whiff of spice.
Palate:
Filibuster Dual Cask Bourbon is gently sweet, with notes of caramelized banana and stone fruit, and slightly viscous, but not cloyingly so. The most noticeable heat, black pepper, briefly warms the back of the throat, before everything dissipates with a soft, smooth finish. For how light this bourbon is, it has a great depth of flavor.